Events
Upcoming Beyond Center Events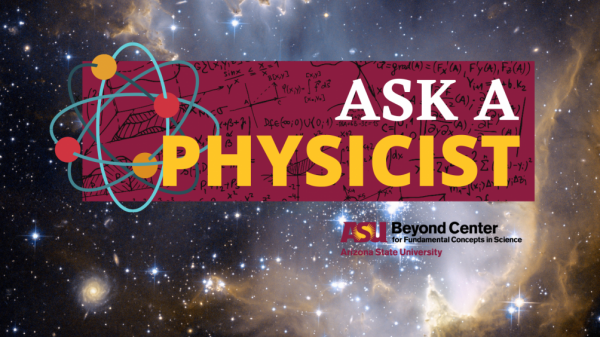 March 27th, 2023
Zoom Webinar
Join us for a monthly webinar series, ASK A PHYSICIST, with renowned physicists Paul Davies, Sara Walker and Maulik Parikh from the Beyond Center for Fundamental Concepts in Science at Arizona Stat
Beyond Annual Lecture
Space2inspire: The New Space Age
In September 2021, Dr. Sian Proctor was fortunate to be a member of the first all-civilian space mission to orbit our planet and she became the first black female pilot of a spacecraft. She was selected to go to space as an artist and a poet and while in space, she experienced an Earthlight overview effect. During this presentation, she'll share her experience as a member of the SpaceX Inspiration4 mission and what she's learned from this new orbital perspective.
The Beyond Annual Lecture is our premier public event of the year. We ask a scientist or philosopher of international standing to offer a reflective account of their work and interests, and invite them to speculate a little bit "beyond" their normal comfort zone.
Eugene Shoemaker Memorial Lecture
Shooting for the stars: the Interstellar Breakthrough Initiatives with Pete Worden
Abstract:
On July 20, 2015 at the Royal Society, London, UK Yuri Milner and Professor Stephen Hawking announced the Breakthrough Listen Initiative. It is designed to look for signals from an intelligent civilization in our galaxy or beyond. This SETI search is orders of magnitude more encompassing and complete than any previous search. In addition, On April 12, 2016, in New York, NY, USA Milner and Hawking announced a new Initiative, Breakthrough StarShot designed to send a gram-class interstellar probe to Alpha Centauri within a generation.
About the Eugene Shoemaker Memorial Lecture
Each year, The Beyond Center presents a special award to a leading scientist to honor the life and work of Eugene Shoemaker who, together with his wife Carolyn Shoemaker, pioneered research in the field of asteroid and comet impacts.
Ask a Physicist
Ask a Physicist Webinar Series
Ask a Physicist is a monthly webinar series, with renowned physicists Paul Davies, Sara Walker and Maulik Parikh from the Beyond Center for Fundamental Concepts in Science at Arizona State University. Each month they will address the big questions in physics with viewers participating in the discussion!